120-Minute Sterilization Knife Sterilizer Guard The Kitchen
Knife Sterilization Is Essential For A Commercial Kitchen:
Knife sterilization is a must for any commercial kitchen. In fact, the FDA has strict guidelines for the sterilization of all kitchen utensils, and this includes knives. The main reason behind this is that you want to make sure that the food that you are preparing is safe and free from any bacteria or viruses. This will ensure that people who eat your food stay healthy and don't get sick.
Here are some reasons why knife sterilization is essential for a commercial kitchen:
Infection Control:
Cleaning your kitchen knives is not enough to prevent bacteria from spreading in your kitchen. If you are not sterilizing your knives, it can cause infections and other health problems for yourself and your customers.
Reduced Risk Of Cross-Contamination:
When you are cooking in a commercial kitchen, there is always the risk of cross-contamination if your tools aren't properly cleaned and sanitized. This can lead to foodborne illnesses that could hurt your business reputation and cause a loss of revenue.
Save On Costs And Time:
The average cost of replacing a knife is around $50 while sterilizing them costs only $0.10 per knife. Sterilizing also reduces the risk of accidents caused by dull knives which can be very costly to repair or replace due to injuries sustained by workers or customers.
Easy Maintenance:
Once you have sterilized your knives once, they do not need to be sterilized again unless they are damaged or dropped on the floor where they may pick up bacteria from the environment or other surfaces in your kitchen.
MARCHEF's Powerful 120-Minute Sterilization Knife Sterilizer:
The 120-Minute Sterilization Knife Sterilizer features a larger capacity, which means you can sterilize more items at one time. It also has an adjustable height that allows for taller items to be sterilized. The longer sterilization time is ideal for small kitchenware such as spoons, spatulas, and other utensils. Here are some features of the 120-Minute Sterilization Knife Sterilizer: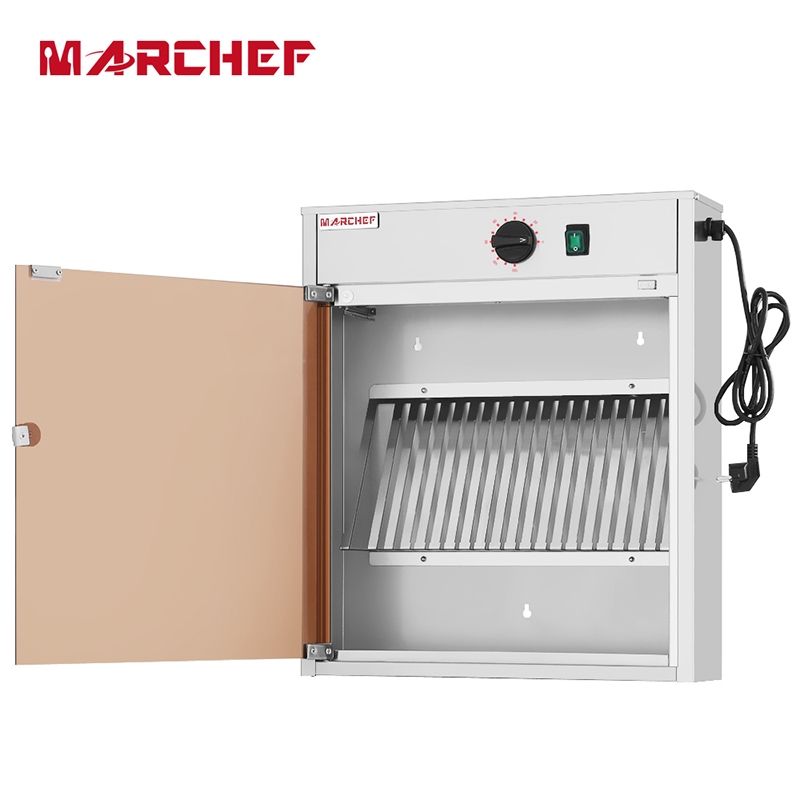 Longer Sterilization Time:
The knife sterilizer has a working time of up to 120 minutes and can keep your knives sterilized for a long time. It is easy to use and maintain, and you can use it as a normal fruit or vegetable knife after washing it in the kitchen.
Safe And Reliable Material:
If you divide it into three parts of material, you can clearly find that its glass door is a layer of tan clear glass. Its shell material is S/S201, and its tool holder is also made of stainless steel, which is very strong and corrosion-resistant. Its overall appearance design is very simple and beautiful. At the same time, MARCHEF's knife sterilizer has obtained CE certification and is a safe and secure product.
Thoughtful Design:
The frame of this knife sterilizer is ribbed and removable and replaceable. A more thoughtful design is that there is an 8mm width distance between each tool holder. This distance allows the user to take the knife in and out of the sterilizer without touching other knives, which is helpful for the user's operation. Also, you can see its tan glass door. You can see the sterilization process of the knives through the glass door. Made of tan tempered glass, this door is not only beautiful but also very strong.
Larger Capacity:
The 120-Minute Sterilization Knife Sterilizer has a sterilizing knife holder with a capacity of 14-20 knives. This means you can store many table knives in the device without worrying about them contaminating each other. Such a large space that holds all your knives and other kitchen tools make it easier to clean all your utensils at once.
Ultra-Long Service Life:
As we all know, ultraviolet light is a short wave with strong germicidal power. Ultraviolet light acts directly on the DNA of microorganisms, converting the DNA of the bacteria into energy, and then gradually dying. Therefore, it is very bactericidal. In addition, UV lamps have a long lifespan. The UV irradiation life of the device is 1000 hours. This means it can meet most of your sterilization needs. If you want to know when the disinfection process is complete, you can look at the lights on the device. The indicator light will tell you the disinfection status of the machine.
Benefits Of Choosing MARCHEF's 120-Minute Sterilization Knife Sterilizer:
Sterilization is one of the most important processes in the commercial kitchen. Not only will it guarantee food safety, but it can also help you save money. What benefits will you get from such a sterilizer with a large-capacity knife holder, long sterilization time, and strong sterilization ability? Here are some of the benefits you'll get:
Long-term usage: save your money
MARCHEF's 120-Minute Knife Sterilizer is made of top-quality materials, which can ensure the long-term usage of the device. The sterilizer is made of stainless steel, which is corrosion-resistant and durable. It's also easy to clean and maintain. The knife holder can hold up to 12 knives at once, which means less time wasted on sterilizing your knives.
Strong sterilization ability: save your time
The sturdy design and large capacity of the knife holder make it possible for you to sterilize your knives in just 120 minutes! The powerful heating system will kill all kinds of bacteria in your knives within a short time period. With this machine, you don't have to worry about whether or not your knives are properly cleaned or disinfected before using them again.
Easy operation: convenient to use
The MARCHEF 120-minute knife sterilizer can be used in the kitchen. It is easy to assemble and disassemble, so you don't need any special skills or tools for that. This also makes it very convenient for you to move it around.
MARCHEF Is A Professional Kitchenware Supplier:
If there's one reason to convince you to choose MARCHEF, it's Professional. If there were two reasons, it would be: professional and customer-focused. MARCHEF is a company with more than 10 years of experience in the production of kitchenware, it knows how to make customers happy.
Please feel free to contact our friendly reception staff for any product equipment questions!