The Best COMMERCIAL CREPE MAKER DEALER Ever!
If you are Planning to buy crepe makers but don't know much about crepe makers and their dealers. MARCHEF being the best COMMERCIAL CREPE MAKER DEALER is here to guide you all about crepe makers. We have an amazing range of crepe makers that we will discuss later in this article.
A Crepe Maker
A crepe maker is an electric device that can help you in making many delicious recipes in just a little time. If you want to make crepes like a professional, you should buy a crepe maker from the best commercial crepe maker dealer. A crepe maker is not only useful for making crepes; you can also make a variety of dishes like pancakes, omelets, roti, and tortillas; you can cook meat, fish, seafood, steaks, and sandwiches; you can also sauté veggies.
In short, anything that you can cook on a griddle pan can also be cooked using a crepe maker easily.
There are thousands of crepe makers available on the market. So, it can be difficult to choose the right one. MARCHEF is here to guide you about 5 key features that you should consider before making a DECISION for your crepe maker.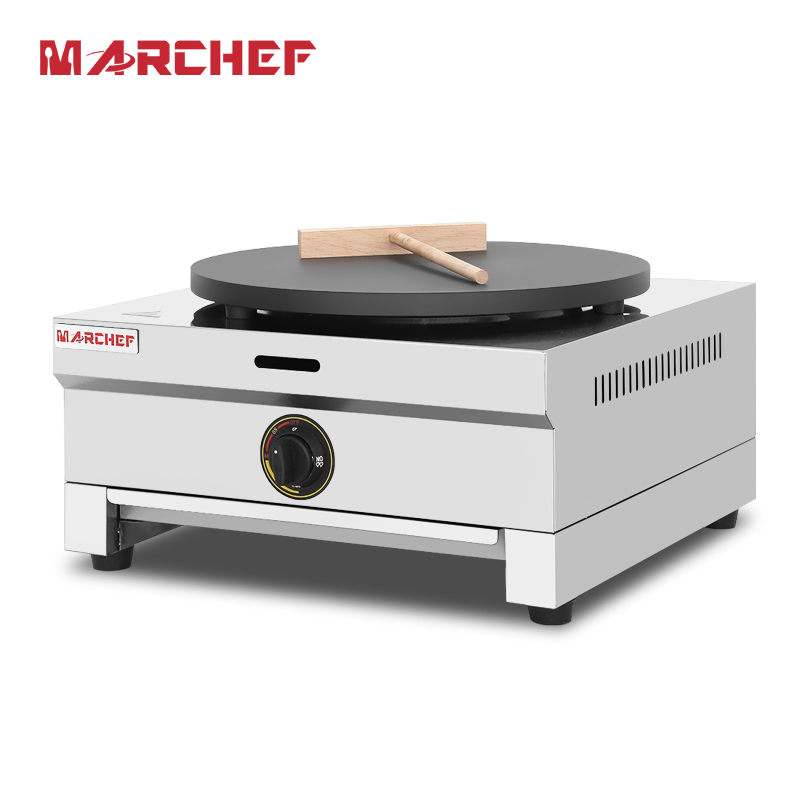 Key considerations for choosing the best crepe maker
The best crepe maker is the one who will help you have crispy, fluffy, and healthy crepes at home. Crepe makers vary from each other because of size, styles, temperature settings, materials, and plate speed. Let's learn about these features one by one:
1. Quality
The first and most important thing to consider is the quality of metal used in the construction of crepe makers. Check for material that whether it is made with non-stick metal or without non-stick metal as it affects the quality of crepes. Nonstick is convenient, attractive, and lightweight, whereas aluminum or cast iron crepe makers is cheaper, inconvenient, and heavy.
2. Capacity
The most important thing to consider is the plate size, crepe makers come in different sizes as some customers want to cook mini crepes, and some want to cook a variety of food dishes mentioned above on their crepe makers. The thing to remember is that the larger the size of the plate, the more space it will require in your kitchen. So always take into account the size concerning the amount of space and food you want to prepare using a crepe maker.
3. Temperature control
If you're not good at handling temperature and sometimes you burn food because you don't know how to deal with temperature, you should buy a crepe maker with a temperature control setting feature. Many models have an automatic temperature control feature, which adjusts the temperature of heat automatically during the process; some crepe makers have a button that assists you to control the temperature manually. So investing in a crepe maker with a temperature control setting will be worth it.
4. Plate speed
For all those foodies that love to eat crepes one after the other, you should check for the plate speed a crepe maker has before purchasing it. Why? Because the higher a plate speed is the faster you will get the crepe. So to satisfy your cravings quickly, you should consider this feature.
5. Style
The price of a crepe maker depends on the size and style of the machine. crepe makers come in two styles depending upon the amount of crepe you want to serve at once, if you want to serve limited crepes and just want to diversify your menu, you should go for a single crepe maker but if you plan to serve a notable amount of crepe and you have space, you can go for a dual crepe maker.
Who Is The Best Commercial Crepe Maker Dealer?
MARCHEF is the best commercial crepe maker dealer you're looking for because we are one of the leading companies in China that produces the best cooking, baking, and cooling equipment; we have a vast range of fryers, grills, griddles, and crepe makers.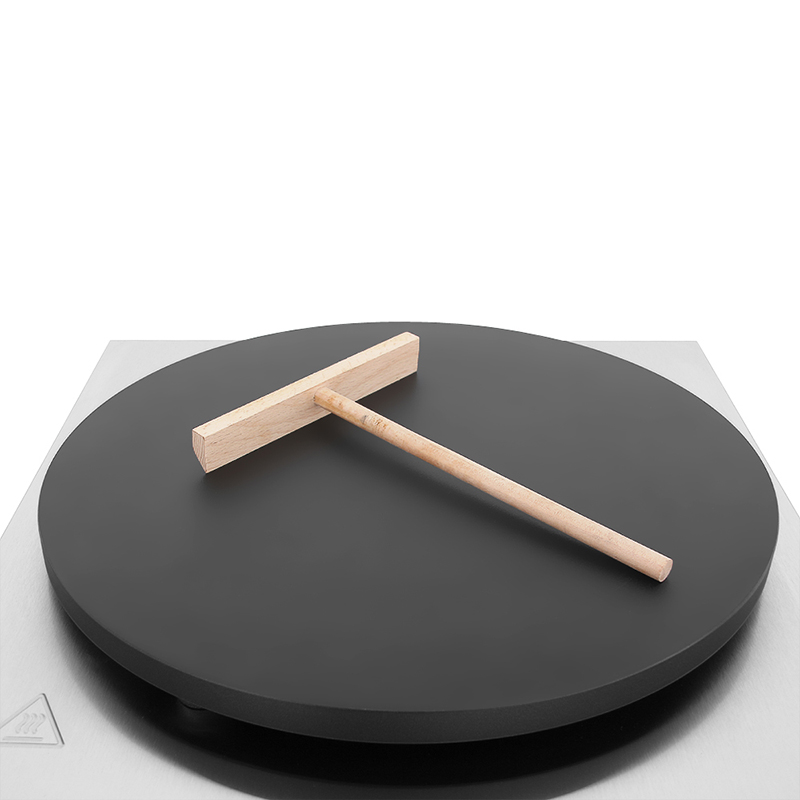 What Makes Us Unique from Others?
We have crepe makers of every size, style, and type. You will love our crepe makers because they're made up of quality material that lasts forever. We offer a wide variety of commercial crepe makers at prices lower than others. We deliver our products within 24 hours and also offer customer service support. And who does like a product that comes with a warranty, yes, you have read right, we also give extended warranty so that customers can trust us.
PROCEDURE TO USE MARCHEF CREPE MAKER:
We believe that you should know the right way to use a crepe maker to make mouth-watering crepes. Therefore, here is a guide to using a marchef crepe maker:
First, clean the surface of your hot place to remove any dirt or dust.
Plug in the crepe maker and turn it on.
Set the temperature using the temperature control.
Pour the batter onto a pre-heated plate.
Use a wooden spatula to spread the batter on a hot plate.
Then add veggies on top of the batter.
After a few minutes, the crepe will turn golden.
Then use a spatula to flip and fold the crepe.
Your crepe is ready to serve and enjoy.
Never forget to clean your crepe maker using a cloth or sponge.
MARCHEF Commercial Crepe Maker Series
We have a wide range of crepe makers. We guarantee you that by using our crepe maker you will enjoy tasty crepes at home. Our crepes makers are easy to clean, have an aesthetic design, and a temperature control knob, and are easy to clean. You can experiment with a variety of recipes using our crepe maker. Our crepe maker range includes:
A detail about the features of these crepe makers ARE given below:
Single Electric Crepe Maker
Our single electric crepe maker has a single plate; hence it requires very little space. Its cooking surface is 400mm. The shape of its hot plate is round. It consumes only 220V/50Hz voltage. Its power is 3000W. You can prepare crepes at a temperature of 50 to 350 degrees centigrade. The hot plate is coated with Teflon for better results.
Double Electric Crepe Maker
For those who want to serve crepes to customers in large quantities and with consistency, a double electric crepe maker would be a miracle for your restaurant or kitchen. This crepe maker is an extension of a single electric crepe maker as it has two hot plates; both have a surface area of 400mm and both have the power of 3000W. This machine is strong and long-lasting as its external shell and grease control tray is made up of stainless steel.
300mm Electric Crepe Maker
Don't be sad if your kitchen does not have space to accommodate 400mm crepe makers, because we have a product for you. Get a 300mm electric crepe maker at a reasonable price to satisfy your hunger by eating yummy crepes. Its surface area is 300mm and its dimensions are 530*330*205mm. It is not heavy on the pocket as it consumes only 220~240v/50Hz. It has a power capacity of 2000w. We provide a built-in overheat temperature controller for the safety of our customers.
Round Electric Crepe Maker
Making crepes and round roti has never been easy. As discussed earlier, a crepe maker comes in different shapes, so this machine is round; it is super easy to use, and convenient. Its hot plate size is 400mm and it has a power of 3000w.
We don't only manufacture electric crepe makers; we also have a separate range of gas crepe makers, and guess what? These gas crepe makers are also convenient and of high quality.
Single Gas Crepe Maker
Single gas crepe maker uses LPG gas to function perfectly. It consumes 2800Pa of voltage and its plate size is the same as an electric crepe maker. We use stainless steel to construct gas makers.
Double Gas Crepe Maker
Besides, a single gas crepe maker, we also have a double gas crepe maker for those who want to prepare crepes by using gas, this double crepe maker is a treat for you. Its hot plate size is 400mm+400mm.
That's all from our crepe maker series; if you have any queries regarding any equipment you can visit our website https://www.marchefchina.com/ as our customer service representatives are 24 hours available to help customers.
In short, if you want to impress your friends and family by serving yummy crepes buying a crepe maker from MARCHEF would be the best decision as we have durable, reliable, and high-performance snack machines. We wish you good luck.
Please feel free to contact our friendly reception staff for any product equipment questions!