Super Commercial Waffle Machine Wholesaler Will Surprise You
What Is The Commercial Waffle Machine?
The waffle machine has a rotating plate that is heated by an electric element. The mold and batter are placed on top of the plate and then closed together. The rotating plate then presses down on the mold, making sure no air can enter inside it. As the mixture inside heats up, it expands in size until it forms a waffle shape.
The commercial waffle machine is made up of a number of parts. The first, and most important part, is the baking chamber. This is where all of your batters go, and where they will be heated up to make your delicious waffles. The second part is the lid, which closes over the baking chamber and keeps in the heat needed to cook your waffles perfectly. Finally, there is an outer casing that holds everything together and protects you from getting burned by hot grease or batter when you are working with your machine.
There are many Waffle Machines on the market that can be used in commercial kitchens to meet the different needs of chefs. There are some common waffle shapes made by this machine, such as square, round, hot dog shapes, and flower shapes. This machine produces great-tasting waffles in large quantities and quickly, making it ideal for many busy commercial kitchens.
What Is The Difference Between The Commercial Waffle Machine And Home Ones?
When you want to buy a Waffle Machine, you might consider whether to buy a commercial or household one. It depends on your needs. If you're a professional chef or run a waffle shop, etc., you'll need to make a lot of waffles. At this time, only the Commercial Waffle Machine will meet your needs. Because it is very different from the household version:
More durable:
Commercial waffle machines are designed to be used by many people at once and for many years. They are made with materials that are more durable than those used in home versions. This allows them to withstand heat and pressure better than their counterparts do. Also, they have more features and settings than most home models so you can make more varieties of waffles with them.
Easy To Operate:
The Commercial Waffle Machine has a better operation mechanism, so you can make delicious waffles quickly and easily. With a household waffle maker, you need to learn how to use it first, which takes time and energy. And it's hard for amateur cooks to operate a home waffle maker well.
More Powerful:
The Commercial Waffle Machine has a powerful motor that can make more waffles at one time than the household version. It also uses electricity from 220V to 240V, which is much more powerful than household electricity (110V). This means that it takes less time to cook waffles and cooks faster.
Higher Productivity:
The Commercial Waffle Machine has higher productivity than the household one. The average productivity of the commercial waffle machine is about 1000 waffles per hour, which means that it can make about 100 waffles per minute. For example, if you want to sell 100 waffles in an hour, then you only need to make one waffle every 5 seconds (1 minute / 5 seconds = 20 seconds). In contrast, the household version can only produce about 200 waffles per hour.
The Commercial Waffle Machine Is Suitable For You:
The Commercial Waffle Machine is a great investment for any business that serves waffles, pancakes, or crepes. It's also an excellent choice for restaurants, bars, and cafes that serve breakfast. However, if you're in the market for a commercial waffle maker, you might be wondering who needs this type of appliance.
So who needs the Commercial Waffle Machine? If you have the following needs, chances are you will need a high-quality Commercial Waffle Machine: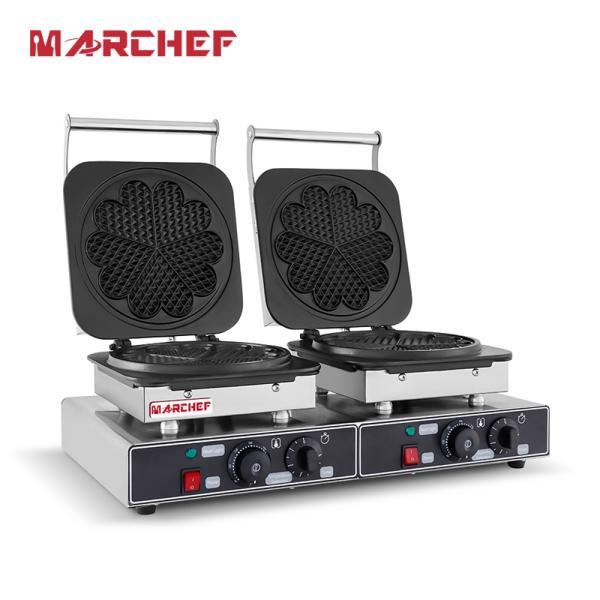 The Owner Of A Restaurant Or Bar:
You want to sell waffles at your restaurant or bar. This is especially true if you have a breakfast menu that includes Belgian waffles or pancakes. The machine will allow you to offer something unique that customers won't find elsewhere in town. And because it makes large batches at once, you can always have fresh waffles ready for customers without having to wait around for them to cook one by one on an electric griddle or stovetop panini press.
Who Wants To Serve Breakfast:
You want to serve breakfast from 7 am until 4 pm every day (or longer). Many restaurants open early in order to accommodate morning commuters who want somewhere nearby where they can grab coffee and breakfast on their way out of the house.
Who Wants To Offer Dessert:
You want to offer sweet treats that people can enjoy with their meals or as an after-dinner treat. Whether it's just a few desserts at night or a full dessert menu with several different options, you need a waffle maker that is reliable and makes delicious waffles every time.
MARCHEF Provides The Better Machines For Chef:
Here is a commercial waffle machine wholesaler from China: MARCHEF. It has more than 10 years of production experience and has brought much high-quality kitchenware to countries all over the world, such as Commercial Waffle machines, Pizza ovens, Deep fryers, etc. The Commercial Waffle Machine is a common gourmet maker, and MARCHEF can offer customers many different shapes.
For example, the Double Flower Shape Waffle Maker allows chefs to quickly create two flower-shaped waffles. This waffle maker uses stainless steel for the body and cast aluminum hot plate material for the hot plate. The material of the hot plate has good thermal conductivity. So when making waffles, it can heat evenly (the temperature can reach 350°), allowing the chef to make delicious food quickly.
In addition to flower shapes, MARCHEF also has Commercial Waffle Machines such as square, round, hot dog, and pine tree shapes, which can basically meet the needs of chefs.
Please feel free to contact our friendly reception staff for any product equipment questions!