How To Find A Better Cooking Equipment Supplier?
How to find a good cooking equipment supplier? Investing in the right commercial cooking equipment can help you save time, increase efficiency, and enhance the quality of your food. Choose equipment that suits the needs of your restaurant, whether you're running a fast food joint, a casual dining establishment, or an ethnic restaurant.
By using the right equipment, you can create a memorable dining experience for your customers and help your business thrive.
Are You Preparing For Your New Eatery?
Are you planning your new restaurant? If your answer is yes, here are some suggestions:
Develop a clear concept and vision for your eatery, including the type of cuisine you will serve, the atmosphere you want to create, and your target audience.
Conduct market research to assess the demand for your concept in your area and identify your competition.
Create a business plan that includes your financial projections, marketing strategy, and operational details such as your menu, staffing requirements, and equipment needs.
Secure funding for your eatery through investments, loans, or grants.
Obtain all necessary permits and licenses to operate your eatery.
Invest in high-quality equipment from a reliable cooking equipment supplier that meets your specific needs and will last for a long time.
Source fresh, high-quality ingredients from reputable suppliers.
In particular, finding a reliable and high-quality cooking equipment supplier is critical to the success of your eatery. Investing in high-quality equipment will pay off in the long run through increased efficiency, improved food quality, and reduced maintenance costs.
What Will You Need From A Cooking Equipment Supplier?
Different restaurants require different cooking equipment. Next, I will recommend some universal equipment that you can buy from the cooking equipment supplier. They can both help you enrich your menu and help you attract more customers!
Fast Food Restaurants:
Fast-food restaurants require equipment that can handle high-volume cooking with speed and efficiency. Some essential equipment for fast food restaurants include:
Deep Fryers:
Choose a deep fryer with a capacity of at least 20-40 liters to handle large batches of fries, chicken, and other fried foods quickly.
The cooking equipment supplier MARCHEF can provide you with a variety of deep fryers, with single tank and double tanks.
Take the 42L Double Tank Electric Fryer as an example, its two tanks are independent, and it is also equipped with a stainless steel chrome-plated basket. Its equipment construction is made of stainless steel 201 to withstand the heavy use and wear and tear of a commercial kitchen.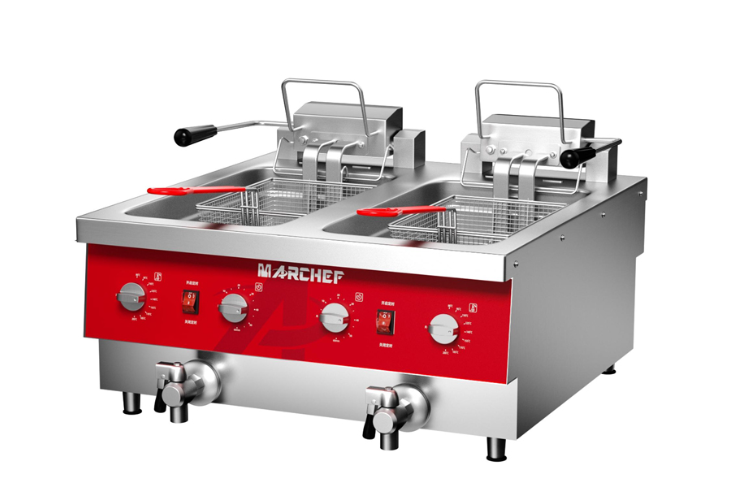 These versatile ovens combine convection, steam, and microwave cooking to speed up cooking times and reduce energy costs.
For example, the cooking equipment supplier MARCHEF offers many types of combination ovens. For example, MARCHEF combines BBQ burners and a griddle. You can fry food on the griddle, or do other cooking on the burners next to it. While saving space, it also expands your menu.
Casual Dining Restaurants:
Casual dining restaurants offer a more relaxed atmosphere and a wider variety of menu items. Some useful equipment for casual dining restaurants include:
Snack Food Equipment:
Add some fun to your menu with equipment like a crepe maker or a chocolate fountain, which can also serve as an eye-catching centerpiece in your dining room.
Ethnic Restaurants:
Ethnic restaurants require specialized equipment to prepare traditional dishes authentically. Here are some examples of equipment that might be useful:
Taiyaki Maker:
This Japanese cooking equipment is perfect for making Taiyaki, a popular street food in Japan.
How To Find A Better Cooking Equipment Supplier?
When it comes to running a successful restaurant, having the right cooking equipment is essential. Finding a good cooking equipment supplier can be challenging, but it's important to do your research and find a reliable and trustworthy supplier.
In this article, we will provide some tips on how to find a better cooking equipment supplier.
Tip 1: Look for Experience and Reputation
One of the most important things to look for in a cooking equipment supplier is their experience and reputation. MARCHEF, for example, has many years of experience in manufacturing professional kitchen equipment and has served many restaurant companies around the world.
It's important to do your research and find a supplier that has a proven track record of delivering quality products and services.
Tip 2: Variety of Equipment Offered
Another factor to consider when looking for a cooking equipment supplier is the variety of equipment they offer. MARCHEF offers a wide range of professional kitchen equipment, which can be helpful for a restaurant that needs to purchase multiple types of equipment.
Having a supplier that offers a variety of equipment can save time and effort when it comes to sourcing all the necessary equipment for your restaurant.
Tip 3: Professional ODM and OEM Services
In addition to offering a wide range of equipment, some cooking equipment suppliers also offer professional ODM (Original Design Manufacturing) and OEM (Original Equipment Manufacturing) services. These services can be helpful for restaurants that want to customize their equipment to suit their specific needs.
MARCHEF also offers professional ODM and OEM services, which can be a valuable resource for restaurants that want to create unique kitchen equipment.
Final words:
Cooking equipment supplier MARCHEF offers a variety of equipment that can help different types of restaurants improve their menu offerings and attract more customers.
Fast food restaurants can benefit from deep fryers, casual dining restaurants can benefit from snack food equipment, and ethnic restaurants can benefit from region-specific cooking equipment.
The selection of equipment should be based on the specific needs of the restaurant, including the size of the restaurant, the volume of orders, and the type of cuisine served.
Please feel free to contact our friendly reception staff for any product equipment questions!