The Better Hamburger Machine Maker From China
What Is Hamburger Machine?
A hamburger machine is a piece of machinery that makes delicious and mouthwatering hamburgers. It is also known as a patty maker or burger press. The machine can be used to make patties of any size, thickness, and shape. It allows you to create any type of burger you want easily and quickly.
There are different types of hamburger machines available on the market today. Some are manual while others are electric or automated. The manual ones are usually cheaper than the electric ones, but they take more effort when using them as compared to electric models. Depending on where these machines are used, they can be simply divided into two categories: home hamburger machines and commercial hamburger machines:
For Home Use:
These types of burger makers can be used by anyone who likes to eat burgers. They can make burgers for a party or just for fun. They are usually smaller in size so that they can fit in any kitchen with ease. These models are also easy to use and clean up because they do not have too many parts that need cleaning after use.
For Commercial Use:
Unlike domestic hamburger machines, which are small and light, commercial ones are often large and heavy. But it can bring ultra-efficient production efficiency to merchants. These machines tend to require more power to operate and provide a wider range of controllable temperatures. For example, MARCHEF's hamburger machines can provide a working temperature of 50-300 ° to meet the temperature needs of more chefs.
How Does A Better Hamburger Machine Maker Make Machines?
Mature commercial kitchens will know how to find a professional manufacturer of kitchen utensils as the provider of their hamburger machines. This blog recommends a professional company from China: MARCHEF. So do you know how a professional maker produces machines?
High-Quality Customization:
The maker will send out a sales representative to visit your restaurant or catering business and learn about your needs. Then they will customize the machine according to your requirements. The maker can also give you some advice about how to operate this device.
Careful Materials Selection:
They are very careful in their selection of materials. They will choose the highest quality materials possible within their budget to produce better machines for their customers. For example, they will only use stainless steel and other food-grade materials when making your machine so that it can be used safely in your kitchen and still look great for years to come. They also make sure that all parts are durable and built to last so that you won't have to replace them any time soon.
Strict Product Inspection:
Because these machines are commercially available, manufacturers must conduct strict product inspections on the products. They also guarantee the quality of their products by providing certificates for each machine. The certificates include information about the specifications and functions of each machine and also apply to the materials used to make them.
Because of this, MARCHEF is able to produce hamburger machines that satisfy more customers.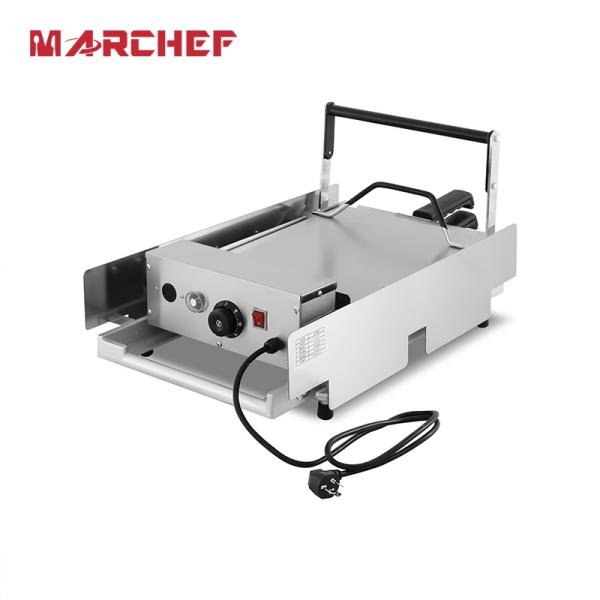 The MARCHEF Hamburger Machine Helps A Lot:
As a commercial hamburger machine, it can do many things for the kitchen, such as:
It can help to save time and energy. The MARCHEF hamburger machine is designed with a dual-rotor design, which can finish the whole process of grinding, mixing, shaping, and frying at one time. It will save you a lot of time and energy.
The MARCHEF hamburger machine also helps to save money. If you have an old machine that only does one step of the process, then it will cost you more money since you will need to buy another machine for each step. But with this great commercial hamburger machine from us, everything is done in one go so you don't need to spend more money on buying different machines for each step.
The MARCHEF hamburger machine helps to get better quality food. Since all steps are done at once with this machine, there won't be any dirt or dust that might affect the quality of your food products. This will also help you get better quality food products from your kitchen.
Why MARCHEF Is A Better Hamburger Machine Maker Than Others?
As a professional manufacturer and supplier of food processing equipment, MARCHEF provides various types of products such as pizza ovens, bread-making machines, refrigeration equipment, and more. The hamburger machine maker from MARCHEF has been one of the most popular products in recent years.
The secret to its popularity lies in its superior performance and excellent quality. The hamburger machine manufacturer from China has been working hard to improve its product line through constant innovation and research & development (R&D) efforts. They provide chefs with high-quality machines:
Durable And Efficient:
The MARCHEF hamburger machine is made of stainless steel, which is a durable material. It's also easy to clean, so you don't have to worry about the machine getting dirty after each use. The overall design of the machine is sleek and elegant, making it an eye-catching addition to any kitchen.
Easy To Operate:
The MARCHEF hamburger maker comes with simple controls that allow you to set the cooking time and temperature easily. It also has an automatic shutoff feature that activates when the food is cooked completely. This feature prevents overcooking or burning of your food during the cooking process. You can even adjust the thickness of your patty by adjusting its thickness setting on the control panel.
Fast Production Speed:
You will be surprised at the fast production speed of this hamburger maker. It only needs 2 minutes to make one piece of hamburger from 50g beef, 100g pork or chicken meat, and 50g bread. You can make up to 150 pieces per hour with one cook. If you need more quantity, you could use two cooks at the same time to increase the production speed and output.
Please feel free to contact our friendly reception staff for any product equipment questions!