Replace Old Ones With Heavy Duty Electric Countertop Fryers
Regular Updating Of Your Commercial Kitchen Equipment Is Essential:
A commercial kitchen is a place where food is cooked, prepared, and served. It is a very important room in any business because it can determine the success or failure of the business. If you are running a restaurant or any other food-related business, then you should be aware of the importance of having good commercial kitchen equipment.
You've heard it before: regular updating of your commercial kitchen equipment is essential. It's not just to keep up with the latest trends, but it's also a way to make sure that your food is prepared and served safely.
If you have some deep fryers that have been used for a long time, you should know that they are not working properly anymore. It's time to replace them with new ones. This will not only improve the quality of your food and service but also keep your customers safe from any potential health hazards.
If your commercial Electric Countertop Fryer is as described below, you'd better replace it:
1. It can't fry foods quickly enough to meet your needs.
2. Its temperature control is faulty and the temperature varies too much when you are frying foods.
3. Its oil capacity is too small for you to fry all the food you need in one batch.
Replace Your Old Ones With MARCHEF's Heavy Duty Electric Countertop Fryers:
If your equipment has started to work slowly or breaks down, consider replacing some new equipment to improve the efficiency of your commercial kitchen. Here I recommend you choose MARCHEF's Heavy Duty Electric Countertop Fryer.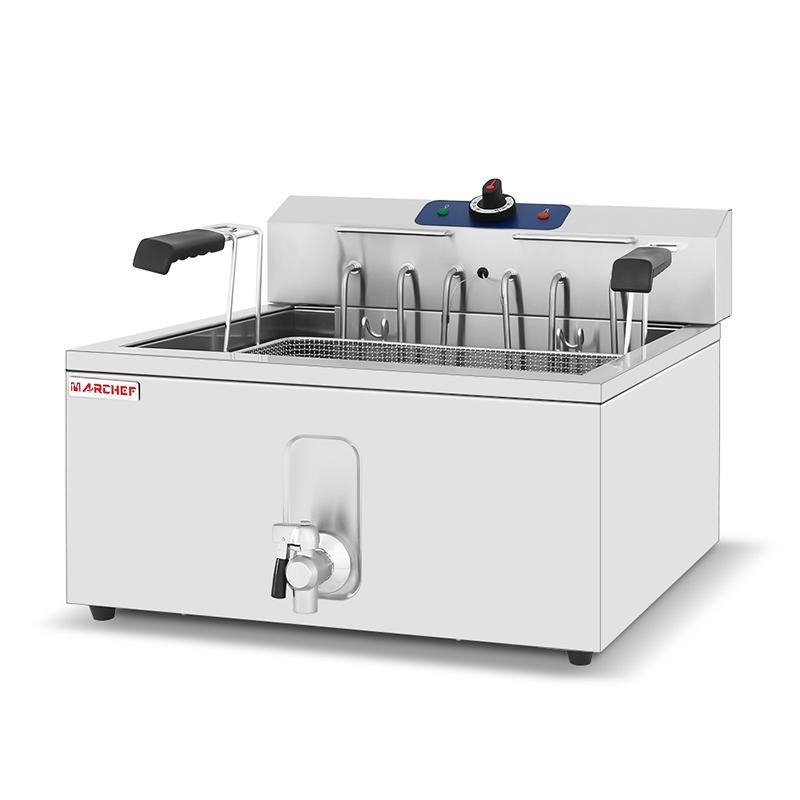 These deep fryers are specially designed for commercial kitchens, they have a larger capacity, more durable materials, and more efficient work:
Larger capacity:
At MARCHEF, you can find deep fryers in many different capacities and types. There's even a Heavy Duty Electric Countertop Fryer that goes up to 20 liters, perfect for your growing number of customers.
Take Heavy Duty Electric Countertop Fryer EF-25 as an example, its voltage is 380V/50Hz, and its power is 9Kw. It has a large capacity: the size of the 25L tank is 510*510*150mm.
At the same time, it is Single Tank, but you can put two big baskets on it. Each of these baskets measures 490*460*120mm, allowing you to put any food you want to fry.
More durable materials:
When you're picking out a Heavy Duty Electric Countertop Fryer to replace, more durable materials are definitely better. The whole of EF-25 is made of high-quality stainless steel. Its body is made of Stainless Steel 201 with a thickness of 1.0mm.
This material is very useful in a busy commercial kitchen. It is highly resistant to corrosion and rust. This means you don't have to worry about the fryer falling apart on you or its parts becoming unusable after just a few uses. The stainless steel basket is also very durable, so it won't warp or deform over time.
More efficient work:
If you are tired of the slowness of your old equipment, then the new equipment should be more efficient. In addition to the Heavy Duty Electric Countertop Fryer EF-25, MARCHEF's other deep fryers also have a strong working capacity.
They have built-in high-quality and efficient stainless steel heating tubes, which can quickly provide a temperature range of 50°C-190°C. This means that you can cook your food faster and more efficiently. The fryer's working capacity is also very large, which allows you to fry a lot of food at once.
Heavy Duty Electric Countertop Fryer Is Perfect For Your Fast-Food Business:
Fast food restaurants are known for serving delicious food. One of the most popular items on any fast food menu is fried chicken. Whether you're talking about chicken wings or chicken fingers, fried chicken has been a staple in the fast food industry for decades.
If you own a fast food restaurant that serves up fried chicken regularly, then it's important that you have access to a heavy-duty electric countertop fryer like this one from MARCHEF!
A commercial heavy-duty electric countertop fryer is a great addition to any restaurant, food truck, or other business that needs a way to cook fried foods quickly.
It's important to note that this type of fryer is different from a deep fryer. A deep fryer uses oil that you pour into the bottom of the device and then uses an electric element to heat it up. The oil is heated to very high temperatures, which allows you to cook larger items like whole chicken and potatoes easily. However, this type of fryer doesn't work well for smaller items such as chicken nuggets or French fries because it takes too long for the oil to heat up enough to cook those items evenly.
A commercial electric countertop fryer uses electricity instead of oil, so it only has one heating element: the bottom plate. This means that it heats up very quickly — within one minute — and can be used for smaller items like French fries or chicken nuggets. This type of fryer also has adjustable temperature controls so you can control how much heat gets transferred into whatever food you're cooking.
Please feel free to contact our friendly reception staff for any product equipment questions!