All-In-One Combi Oven: Perfect Restaurant Kitchen Equipment
How To Save Your Space If Your Restaurant Is Not Big Enough?
You may have noticed that the trend of restaurant kitchen equipment is moving away from big and bulky units. This is because people are now looking for more compact and efficient equipment that can help them save space.
If you are a restaurant owner who wants to have a small kitchen, then you may be wondering where to start when it comes to choosing the right equipment that will fit your space.
If your kitchen is always busy, chefs are walking from one cooking station to the other and getting stuck. Or you'll need to walk to the other side to get the ingredients, then rush back to the cooking station.
You may think that these are small things, but in fact, it has wasted a lot of your time invisible. Here are some tips to help you save space in your commercial kitchen:
1. Rearrange your kitchen utensils:
If you've got a lot of kitchen utensils, it's time to reorganize them. You can place the most used utensils in easy reach from your cooking station while putting others out of sight and mind. This way, you will save more space for your kitchen equipment.
2. Use Vertical Space:
If you want to save your space in the restaurant kitchen, then using vertical space is the best option for you. You can use wall-mounted shelves or racks to store food containers and other supplies so that they do not take up too much floor space.
You can also install cabinets above your cooking stations so that chefs do not need to bend down when picking up ingredients from storage containers below them.
3. Use all-in-one restaurant kitchen equipment:
If you have a lot of restaurant kitchen equipment, choosing an all-in-one combination oven is a good choice. This way you don't have to go too far to another cooking area, and you don't need to fill up the kitchen.
What Is The All-In-One Combi Oven?
The all-in-one combi oven is one of the most popular and versatile cooking appliances in the market. It is a combination of a traditional oven, microwave, convection oven, and steam generator. The combi oven has many functions that make it an excellent choice for busy restaurants.
MARCHEF's combi oven has many types, which can basically meet your needs.
Gas Lava Rock Grill with Cabinet:
This appliance is a combination of an electric range and a lava rock grill, enabling you to cook with no oil needed. It can be used as an oven, or stovetop, or to quickly grill beef or chicken, making food healthier.
Gas Burner&Griddle With Oven:
This two-in-one oven consists of an electric stove and a gas burner. The former can be used to bake, boil, or roast, while the latter can cook high-temperature dishes like steaks and chicken wings. The advantage of this oven is that it saves time and is convenient for preparing multiple dishes simultaneously.
Electric Range with Burners and cabinet:
The Electric Range with Burners and cabinet provides four burners on top and two compartments inside, enabling simultaneous cooking of different foods without needing to regularly switch pans.
The above three restaurant kitchen equipment are commonly used and popular kitchen utensils and they can help you improve your work efficiency.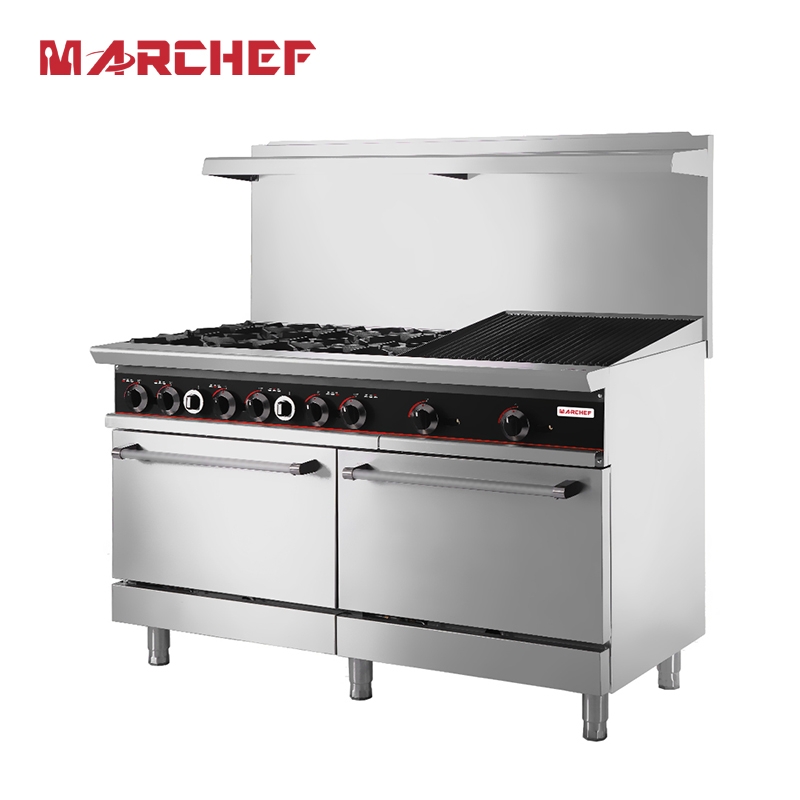 Benefits Of The MARCHEF's All-In-One Combination Ovens:
The MARCHEF's All-In-One Combination Ovens are designed to meet the needs of any restaurant. They are an ideal solution for fast-food restaurants, cafes, canteens, and bistros because they allow you to cook a wide range of dishes at once.
In addition to helping you save space, MARCHEF's All-In-One combi ovens have many benefits:
Versatility:
Because this is a combined restaurant kitchen equipment, it includes the functions of two pieces of cooking equipment. Such as grilling and cooking. Such a versatile device can help you develop new menus and attract more new customers.
Efficiency:
This restaurant kitchen equipment by MARCHEF has multiple working areas and control buttons. You don't have to wait extra for these appliances to warm up but can cook at the same time. You can do more in the same amount of time.
Such equipment can greatly improve the efficiency of your commercial kitchen so that your customers don't have to wait too long.
Convenience:
Although these devices are all-in-one, their design is very user-friendly. You have enough space for all-in-one cooking because its cooking layout division is very scientific.
If you want to customize and wholesale this kind of restaurant kitchen equipment, you can also send the design drawings to MARCHEF. They are happy to provide ODM and OEM services.
MARCHEF's All-In-One Combi Ovens Are Perfect Restaurant Kitchen Equipment:
Take MARCHEF's Gas Charbroiler & Burner with Oven (MR60-GL24), a great addition to any busy restaurant kitchen. Here is a brief introduction to this hot-selling restaurant kitchen equipment:
Extra large cooking area: 6 natural gas charbroilers
It has 6 gas ovens. This allows it to provide very strong firepower, but low gas consumption. On this combi stove, you can cook meat and vegetables at the same time.
Sleek all-in-one design: Durable stainless steel material
This restaurant equipment is crafted from high-quality stainless steel. This makes it very durable and easy to clean. The sleek, all-in-one design makes this oven look great in any kitchen setting.
Safety protection setting: Equipped with thermocouple wire
This combi oven comes with a safety protection setting. This protects against overheating and allows you to cook more food for longer periods. The thermocouple wire also allows you to monitor the temperature inside the oven at all times.
In addition, its air valve adopts a high-quality copper valve. This air valve can prevent air leakage and avoid fire.
Final Word:
MARCHEF's All-In-One combi oven is the perfect restaurant kitchen equipment! It can help you save space in the kitchen. At the same time, it can quickly improve the work efficiency of your kitchen!
Please feel free to contact our friendly reception staff for any product equipment questions!