How Big Of A Single Tank Gas Fryer Will Be Enough?
The Single Tank Gas Fryer is one of the most affordable types of gas fryers. Many restaurants will be equipped with some to serve customers fried food – which is the favorite of many consumers. Not only will it help you expand your menu, but it will also attract more customers to your store!
What Is A Single Tank Gas Fryer? How Does It Work?
What is a Gas Fryer?
A gas fryer is a deep fryer that uses gas as the heat source. The gas comes in a single tank and can be controlled by the user to ensure high heat and consistent cooking temperatures.
Single Tank Gas Fryer:
Single Tank Gas Fryer refers to a deep fryer with only one tank for frying food. The Single Tank Gas Fryer referred to here is produced by MARCHEF. Its body material is high-quality stainless steel, and there are many capacities for you to choose from.
How Does The Single Tank Gas Fryer Work?
The Single Tank Gas Fryer works by heating the oil in the tank, which then heats the food being fried and cooks it. Once the food is cooked, you then remove it from the stovetop or countertop and put it into a paper towel-lined basket or platter. You can then serve your food right away or refrigerate it if necessary until you're ready to eat it.
How Much Food Can a 42L Single Tank Gas Fryer Fry? What About 23L?
The amount of food that a 42L Single Tank Gas Fryer can fry depends on various factors, such as the size and type of the food being fried, the temperature of the oil, and the frying time. However, as a rough estimate, a 42L gas fryer can fry around 60-70 pounds of food per hour.
Similarly, a 23L Single Tank Gas Fryer can fry around 40-50 pounds of food per hour, depending on the same factors mentioned above.
It is important to note that these are rough estimates and the actual capacity can vary based on the factors mentioned above. Additionally, the amount of food that can be fried in a gas fryer also depends on the cooking practices of the user, such as how often they change the oil and how frequently they clean the fryer.
How Big Of A Single Tank Gas Fryer Will Be Enough?
A busy fast-food restaurant is looking for a Single Tank Gas Fryer to meet their high-volume frying needs. The restaurant serves a variety of fried foods such as chicken tenders, fries, and onion rings. The kitchen has limited space, so the fryer should be compact and efficient.
Capacity Requirements:
Based on the restaurant's high-volume frying needs, a 42L Single Tank Gas Fryer would be a good fit. This should be able to handle the frying needs of the restaurant without taking up too much space in the kitchen.
Oil Replacement Frequency:
To maintain the quality of the fried foods and extend the life of the oil, it's important to change the oil in the Single Tank Gas Fryer regularly. As a general rule of thumb, it's recommended to change the oil after every 6-8 hours of continuous use, or once a day.
However, this can vary depending on the type of food being fried and the temperature of the oil. The restaurant should monitor the quality of the oil and change it as needed to ensure that the fried foods taste their best.
Efficiency and Ease of Use:
The restaurant should also look for a gas fryer that is efficient and easy to use. A Single Tank Gas Fryer with quick heat-up times and temperature recovery will help the kitchen keep up with high demand. It's also important to look for a fryer with user-friendly controls and features such as a drain valve and an easy-to-clean design to streamline the cooking and cleaning processes.
Safety Features:
Lastly, the restaurant should consider the safety features of the fryer. Look for a fryer with built-in safety features such as high-temperature limit switches, flame failure protection, and a built-in fire suppression system to prevent accidents and ensure the safety of the kitchen staff.
Benefits Of The MARCHEF Single Tank Gas Fryer:
To sum up, when selecting a Single Tank Gas Fryer for a commercial kitchen, it's important to consider the specific needs and requirements of the kitchen.
Capacity, oil replacement frequency, efficiency, ease of use, and safety features should all be taken into account to ensure that the fryer meets the kitchen's needs and helps the kitchen produce high-quality fried foods consistently.
Here I recommend MARCHEF's Single Tank Gas Fryer for you. They have a capacity of 42 liters and 20, 23 liters, etc. for you to choose from. Take the 42-liter Single Tank Gas Fryer as an example, it has the following advantages: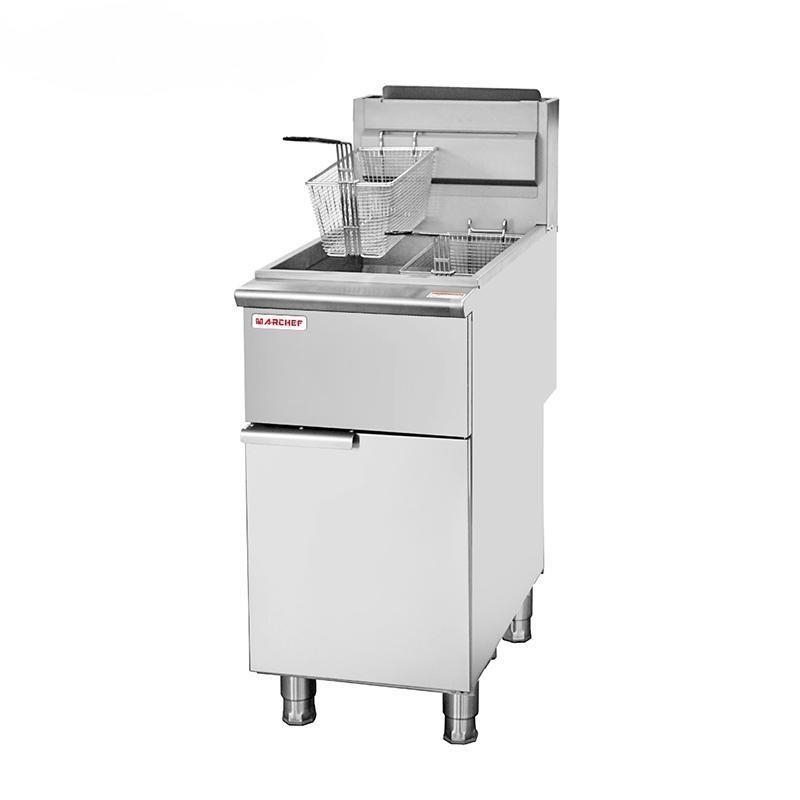 More Efficient Work Efficiency: 44kW Power
The MARCHEF Single Tank Gas Fryer has a powerful 44kW heating system, which allows it to heat up quickly and maintain a consistent temperature throughout the frying process. This results in more efficient work efficiency and reduces the waiting time for customers.
Provide a Larger Temperature Range: 93°C-205°C
The fryer is designed to provide a larger temperature range, from 93°C to 205°C. This allows for more precise temperature control, which is essential for producing high-quality fried foods.
Made Of High Quality Stainless Steel Material:
The fryer sides and back is made of Galvanized material. Front panel is made of specially SS304, which is known for its durability and resistance to corrosion. It's also easy to clean and maintain, making it ideal for use in a busy commercial kitchen.
Solid State Thermostat with Drain Solenoid:
The MARCHEF Single Tank Gas Fryer is equipped with a solid-state thermostat that ensures accurate temperature control and prevents overheating. Additionally, it comes with a drain solenoid that makes it easy to drain the oil from the fryer, which saves time and reduces the risk of accidents.
Final Words:
MARCHEF has a lot of Single Tank Gas Fryers for you to choose the right capacity to meet your daily meal needs. If you want to know more about it, you can check it on their official website, or you can ask their customer service team.
Please feel free to contact our friendly reception staff for any product equipment questions!