Commercial Cup Sealing Machines: Improve Brand Image&Packaging Quality
In the competitive world of business, brand image and packaging play a crucial role in shaping consumer perceptions. The way products are presented to customers can significantly impact their purchasing decisions and overall brand experience.
One effective tool that businesses can utilize to enhance their brand image and packaging quality is a commercial cup sealing machine. These machines offer a range of benefits that go beyond simply sealing cups.
In this article, we will explore how commercial cup sealing machines can help businesses improve their brand image and packaging quality, leading to increased customer trust and loyalty.
What Is A Commercial Cup Sealing Machine?
Commercial cup sealing machines are essential equipment in the beverage industry. The MARCHEF commercial cup sealing machine is available in two versions: semi-automatic and fully automatic. This article focuses on the features, working principle, and process of the fully automatic commercial cup sealing machine.
Features:
The MARCHEF commercial cup sealing machine is designed with a painted body, providing durability and a sleek appearance. The machine is equipped with an electronic eye sensor device that accurately seals the film to minimize waste.
Additionally, the machine features an emergency stop function, ensuring operator safety. The machine operates at a low noise level, creating a comfortable and efficient work environment. An indicator light provides easy operation, and the highly sensitive scanner guarantees precise sealing.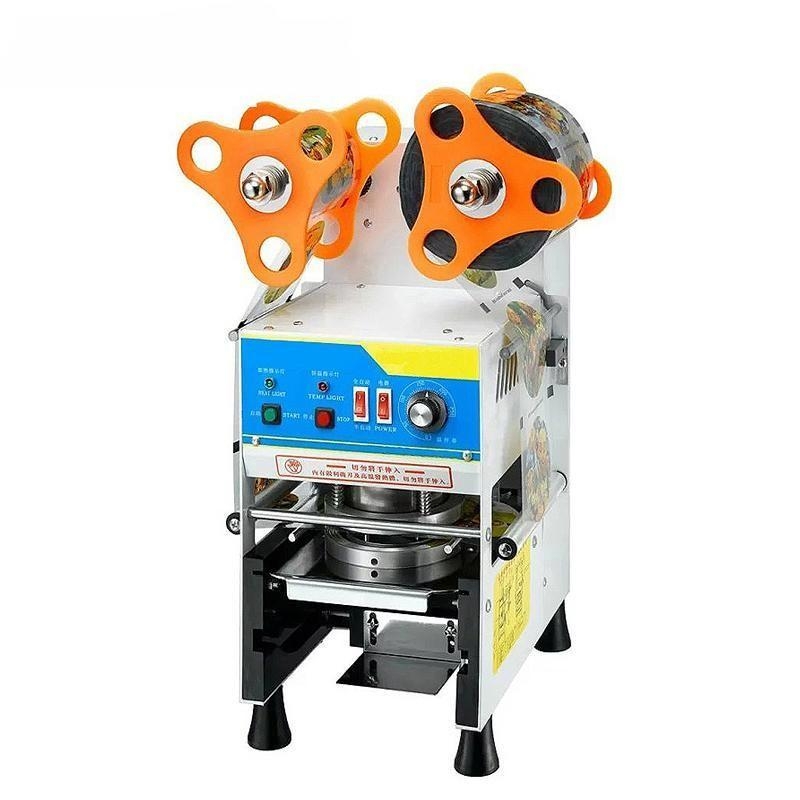 Working Principle:
The working principle of the MARCHEF commercial cup sealing machine is straightforward. First, the operator places the cup onto the machine's platform and then lowers the sealing head.
The machine's highly sensitive scanner detects the cup's position and initiates the sealing process. The machine seals the cup with a bubble film that forms a tamper-evident seal, protecting the contents of the cup.
Working Process:
The working process of the MARCHEF commercial cup sealing machine is efficient and easy to handle. The operator places the cups onto the platform and starts the machine.
The machine scans and detects the cups' position, seals them with the bubble film, and automatically dispenses the finished cups onto the output tray. The entire process is completed quickly and efficiently, allowing the machine to seal up to 300-400 cups per hour.
The Importance Of Enhancing Brand Image In Beverage Packaging:
A commercial cup sealing machine is a valuable asset for businesses seeking to elevate their brand image. One of the key advantages of using these machines is the ability to create professional and consistent packaging appearances.
With customizable options for seals and branding, businesses can align their packaging with their brand identity. By incorporating logos, slogans, or unique designs on the seals, companies can leave a lasting impression on customers.
Building Brand Recognition and Differentiation:
Effective packaging design plays a crucial role in building brand recognition and differentiation. The visual elements, such as colors, logos, and typography, should be consistent with the brand identity, creating a distinct and memorable image.
By employing unique and eye-catching packaging, businesses can stand out in a crowded marketplace, making it easier for consumers to identify and remember their brand.
Communicating Brand Values and Story:
Packaging serves as a medium to communicate the brand's values, mission, and story. It provides an opportunity to connect with consumers on an emotional level.
Whether it's through eco-friendly packaging materials or showcasing the brand's commitment to quality and sustainability, beverage packaging can effectively convey the brand's core values and resonate with the target audience.
Moreover, commercial cup sealing machines ensure precision and uniformity in packaging, eliminating the inconsistencies that may arise from manual sealing methods. Consistency in packaging not only reflects a professional image but also fosters trust among consumers.
When customers receive products with consistent and visually appealing packaging, it instills confidence in the brand and its commitment to quality.
Tamper-Evident Seals For Product Safety:
Product safety is a top priority for businesses in the food and beverage industry. Commercial cup sealing machines offer an effective solution with their tamper-evident seals.
These seals provide a visible indication to customers that the product is securely sealed and has not been tampered with. Tamper-evident seals not only enhance product safety but also contribute to customer trust and confidence in the brand.
By incorporating tamper-evident seals into their packaging, businesses demonstrate their commitment to delivering safe and reliable products. This feature is particularly important for businesses that sell beverages or food items where consumers are concerned about the integrity of the product they are purchasing.
The presence of tamper-evident seals assures customers that their safety and satisfaction are valued, ultimately strengthening brand loyalty.
Commercial Cup Sealing Machines Are Popular In Many Commercial Kitchens:
Commercial cup sealing machines have gained popularity in various commercial kitchens due to their efficiency and convenience.
Food Trucks and Mobile Vendors:
Food trucks and mobile vendors require portable and efficient equipment to serve customers on the go. Commercial cup sealing machines provide them with the convenience of sealing cups quickly, allowing for efficient service without compromising on quality.
The sealed cups are also easy for customers to carry, minimizing the risk of spills during transportation.
Event Catering and Banquet Halls:
Event catering and banquet halls often handle large volumes of beverage orders during gatherings and functions. Commercial cup sealing machines enable them to seal cups rapidly, reducing service time and ensuring a smooth operation.
The sealed cups maintain the freshness of the beverages, providing a pleasant drinking experience for guests.
Final words:
The packaging of products plays a vital role in shaping brand image and consumer perception. Commercial cup sealing machines offer businesses an opportunity to enhance their brand image and packaging quality in various ways.
The MARCHEF commercial cup sealing machine is an efficient and reliable tool for sealing cups in the beverage industry. The machine's highly sensitive scanner ensures precise sealing and reduces waste, and its emergency stop function ensures operator safety.
By investing in these machines, businesses can effectively elevate their brand image, improve packaging quality, and ultimately leave a lasting impression on customers, leading to increased trust, loyalty, and business success.
Please feel free to contact our friendly reception staff for any product equipment questions!