A Brief Intro Of A Better Gas BBQ Grill Manufacturer
What Is Gas BBQ Grill?
A gas BBQ grill is an outdoor cooking appliance that uses gas as a fuel source. It's a combination of traditional charcoal and open flame grills. A gas BBQ grill has integrated propane or natural gas burner that provides heat for cooking food. The heat source can be adjusted according to the needs of the user. This makes gas BBQ grills easy to use and convenient to clean.Gas BBQ Grill Manufacturer
In order to avoid missing some important parts, it is best to know the main parts that make up a Gas BBQ Grill:
Main Burner is used to heating up the grill and cook food.
The regulator can control the temperature of the gas.
Control Knob is used to control the flame of gas.
The ignition System is used to ignite the spark plug.
The timer is used to set the time when you want to start or stop cooking.
How To Choose A Good Gas BBQ Grill Manufacturer?
As we know, a good product needs a good production company. So how should we identify whether a company is a good one? The following points are listed for your reference:
Professional Experience:
The first thing to look at when choosing a gas grill manufacturer is its experience in the industry. To be able to produce high-quality gas grills, it's important that they have been in the industry for quite some time and have worked with many clients over the years. This will ensure that they can produce exactly what you need and deliver on time.
Reliable Quality Control:
A reliable quality control system is one thing that separates an average manufacturer from a great one. A company with an excellent quality control system will ensure that each and every product meets your standards and expectations before it leaves its factory. This means that their products will be of high quality with no defects or errors! In addition, it also guarantees that if there is any problem with your order, they will be able to fix it quickly without any issues.
OEM Service Offered:
If a manufacturer can offer OEM service, it means that they are capable of producing customized products according to your needs and requirements.
Warranty:
The warranty of a gas grill is very important to the customer because it determines how long you can use the grill. If a manufacturer gives a long warranty period, then you can use it without worrying about quality problems. And if the warranty period is short, it may be that they are not confident in their products or they have some quality problems.
So, to sum up, we recommend going to MARCHEF to buy a more professional Gas BBQ Grill.
Advantages Of Choosing MARCHEF:
MARCHEF is just an ordinary company that produces kitchenware. But it's not content with just producing – it wants to make cooking fun for more chefs. At the same time, it also wants to make the food processing process more efficient in more restaurants or cafes. Choose MARCHEF and you will get:
More Mature Products:
MARCHEF is a company with 10 years of production experience that brings you more mature products. Its production lines have been running for several years and its products are used by many customers around the world. Therefore, you don't need to worry about whether your product will be suitable for you or not.
High-Quality And Safety-Certified Products:
MARCHEF has strict quality control standards, so all its products are high-quality and safety-certified. At present, China's National Food Safety Standard has also been incorporated into our company's production process, which guarantees that every product we produce meets national food safety standards. Moreover, MARCHEF is certified by CE, RoHS, ETL, NSG, etc.
Friendly After-Sales Service:
Their after-sales service team will always help you solve problems about products quickly through telephone support or email communication if there is any problem with your product when using it in practice.
Provide Acclaimed ODM/OEM Services:
MARCHEF has been providing OEM services for many years. It can customize your own brand name products according to your demands. Whether you are planning to open a restaurant or a cafe, MARCHEF can help you create your own unique design and style of kitchen tools for your customers.
MARCHEF Provide You With Better Products:
MARCHEF specializes in the production of kitchen utensils for many years, with a complete range of products. In terms of Gas BBQ Grill, two of the more popular products are: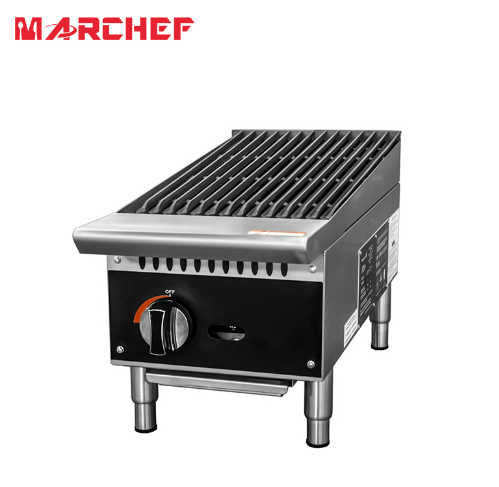 In terms of functional design, this Grill has a U-shaped burner, which can a large grilling area. It also has a large front, which is conducive to rapid cooling of the temperature. When you fire it up, you'll love its design: a standing pilot ignition system with adjustable pilot lights that light up from the front. In addition, it has 4 adjustable stainless steel feet. This way you can place it anywhere you want and adjust it to the height you want. If you opt for it, you also get standard natural gas, a 4-inch regulator, and a low-pressure conversion kit.
If you choose it, you get an extra-large cooking area: 590 x 470 mm. This product is a BBQ Grill with 3 burners and also comes with 3 Assorted Sets. It is worth mentioning that it has a flame protection device that automatically cuts off the gas. You also don't need to worry about its material. It is made of stainless steel. Its stainless steel frame is a full 0.8mm thick, which is very solid and stable.
Affordable Gas BBQ Grill For Sale Now:
Good news: Gas BBQ Grill at MARCHEF is on sale! You can get a higher quality Gas BBQ Grill for a better price! Choose MARCHEF, you will reap your unexpected happiness!
Please feel free to contact our friendly reception staff for any product equipment questions!