A Better Deep Fryer Provider Is A Good Start!
Preparations For Finding Your Deep Fryer Supply:
A deep fryer is kitchen equipment that is used to fry or cook food in oil at a given temperature. In fact, the deep fryer is one of the most important tools that you need to have in your kitchen. It is because it can be used for many different things such as cooking chicken wings, French fries, and other types of food.Deep Fryer Supply
If you are looking for a good deep fryer supply, then you should know that there are many different choices for you out there. However, you must know some important things before choosing your own Deep Fryer Supply:
1. What Kind Of Deep Fryer Do You Need?
What's on the menu in your store? This may determine what capacity deep fryer you need to buy. If it's just fries and onion rings, then a small-capacity one will do a good enough job for you. Other than this factor, there are still other factors that should be considered when buying a deep fryer for your restaurant or cafeteria. For example, if your kitchen is small but needs lots of deep frying done every day. Then go for an immersion-type deep fryer instead. Because it saves space compared to the traditional types of deep fryers which have bulky bodies with their own heating element attached inside the body itself (known as Immersion Type).
2. Does Your Kitchen Run On Gas Or Electricity?
If electricity is used in your kitchen, then you need to consider how much power it consumes and how much noise it makes when operating. If gas is used in your kitchen, then you need to consider how much space it takes up because gas appliances are usually bigger than electric appliances.
3. Are You a Store Manager Who Likes To Add Some New Recipes?
If you are a store manager or chef who likes to try new things, you may need a deep fryer that can better meet your various needs. For example, you can choose a donut deep fryer, so you can use it to fry doughnuts as well as other fried desserts. This will make your menu richer than your peers' and attract more guests.
4. What's Your Budget For This Purchase?
The cost of deep fryers varies from model to model and from brand to brand. You may want to compare prices first before choosing one for yourself. Of course, a lot of the time, the budget is just to keep yourself from buying an overloaded device. In fact, when you see a good device that you like, money is not that important. But more, I hope you can find a deep fryer supplier with both cost-effective and high quality, such as MARCHEF from China.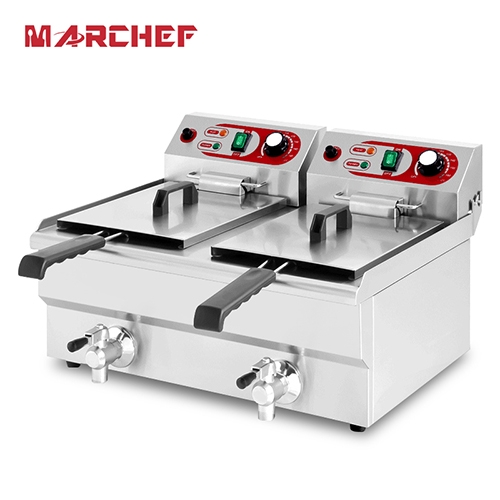 How To Buy a Better Deep Fryer?
After you have your own answer, I believe you will be more aware of what you want. But the question comes back, how to choose a good Deep Fryer? Here are some recommendations:
High-Quality Materials Deep Fryer Supply:
The materials used in the construction of an electric deep fryer are very important. They determine how durable and long-lasting it will be. The best electric deep fryers are made from stainless steel or aluminium. Both metals are known for their durability and resistance to corrosion. Stainless steel is highly resistant to rusting or corrosion because it contains chromium. Aluminium on the other hand is resistant to corrosion because of its oxide layer which protects the metal from rusting or corrosion. You should therefore look for products that are made from these two materials.
With Temperature Control:
You need to choose a deep fryer with temperature control. This is because the temperature of the oil should be controlled within a certain range, otherwise the taste of food will be affected and even damage health. Generally speaking, the most suitable temperature for deep-frying is 160-180 degrees Celsius, so you need to buy a deep fryer with a temperature control function.
Safe And Non-Toxic Equipment:
The last level of food before entering the customer's mouth is the various equipment in the kitchen. Therefore, chefs must ensure that the kitchen equipment they buy is made of safe and non-toxic materials. While some people might say that safety comes second after efficiency, we believe that both must go hand-in-hand when choosing your kitchen equipment supplier. You need to make sure that all the equipment is safe for use by anyone who handles it – including staff members, guests and customers.
Some Deep Fryers Recommended By Many Chefs:
It is made of high-quality anti-corrosion material: stainless steel. Both its body and its basket are solid stainless steel. In design, in order to prevent liquid leakage, the tank designed by MARCHEF is a seamless Oil Tank with Valve. At the same time, it also has a thermostat, temper Limiter, microswitch and power switch. It is worth mentioning that the 32L capacity is convenient for very busy kitchens. It not only facilitates the work of the chef but also has a certain degree of safety. At the same time, this deep fryer has obtained international certifications, such as CE, and RoHS.
This electric pressure fryer has a more intelligent computer panel, which can facilitate the daily operation of chefs. On this device, you can choose a frying temperature from 20-200°. When it works, its working pressure is 8Psi. With this deep fryer, you can finish your meals faster and with more precise temperature control. At the same time, the 22L capacity can also meet most of the daily cooking needs of your kitchen.
Know More About Good Deep Fryer…
Conclusion:
If you want to find a good deep fryer, I suggest you choose the MARCHEF. As a company specializing in the production and sale of kitchen appliances for 10 years, MARCHEF is always striving to do better.
Please feel free to contact our friendly reception staff for any product equipment questions!