Everything you ought to know about industrial gas griddle dealers.
What is a griddle?
A griddle is a cooking machine that has a flat surface that is used to cook a variety of dishes. Not only this, the cooking surface is broad enough to cook a lot of dishes at once. A griddle has a burner that is embedded in the griddle plate; hence the burner is not visible on the outer surface of the griddle. There are griddles of different types, styles, and surfaces available in the market. Read further to know more about griddles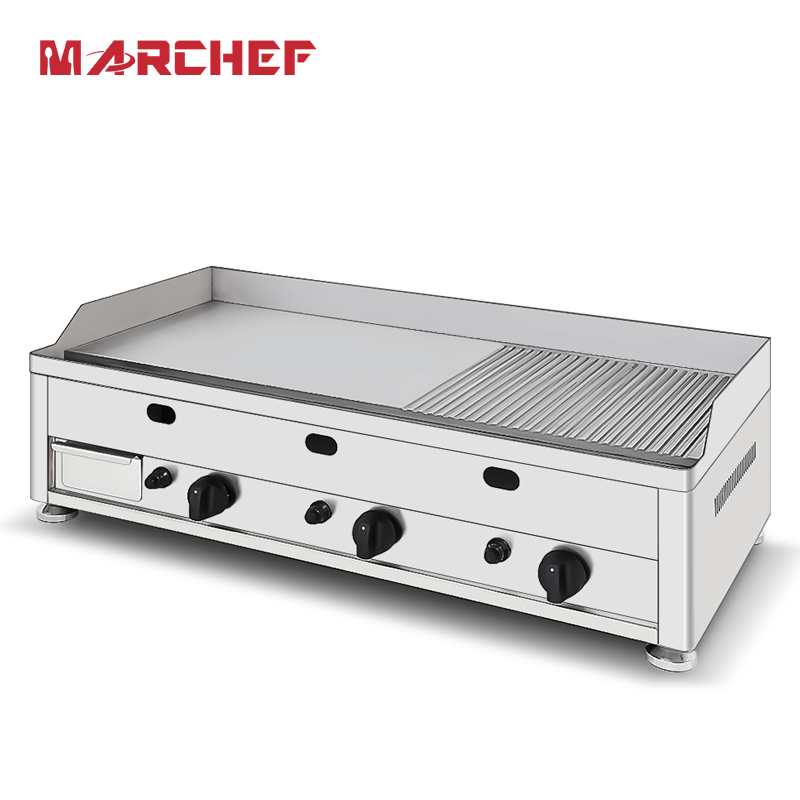 Types of griddles
There are two main types of griddles:
Electric griddles
Gas griddles
As you're looking for industrial gas griddle, let's jump directly on gas griddles
Gas griddles
A gas griddle has a burner embedded inside the griddle plate. The burner heats the griddle plate quickly. The gas griddle needs a skilled person who can install gas into it to avoid inconvenience. They are not portable because they need a gas supply. You can use LPG or natural gas, depending on availability. The best way to ensure that your food tastes good is by using an industrial gas griddle from the best dealer.
Features of a gas griddle:
A gas griddle has multiple features that MARCHEF believes you should know to buy a good one for yourself:
· Equal heat circulation:
The most important feature of the gas griddle is that it has a heat circulation system that distributes heat equally on the griddle plate. Many stoves and grills do not cook food evenly; sometimes the food remains cooked. This is because grills and stoves do not distribute heat evenly due to which food doesn't cook well and eventually a lot of food is wasted due to this. A gas griddle has a built-in heat distributor which regulates the temperature of the plate so that you can serve many snacks at once.
· High performance:
You can add versatility to your menu by using gas griddles. You can cook anything on a griddle in a super-fast manner. It can be something from the breakfast menu like an omelet, pancake, French toast, or snacks, like a burger, wraps, sandwich, etc. Gas griddles have high performance because they heat the griddle plate in less than 20 seconds.
· Time saver:
As it allows you to cook multiple dishes at once, it saves a lot of time. So if you are a restaurant owner, hotel owner, or own a cafe and you want to serve customers without letting them wait for long, a gas griddle is the best option for you.
· Convenient:
They are very convenient, you just need to turn the burner on, and within a few minutes, your food will be ready.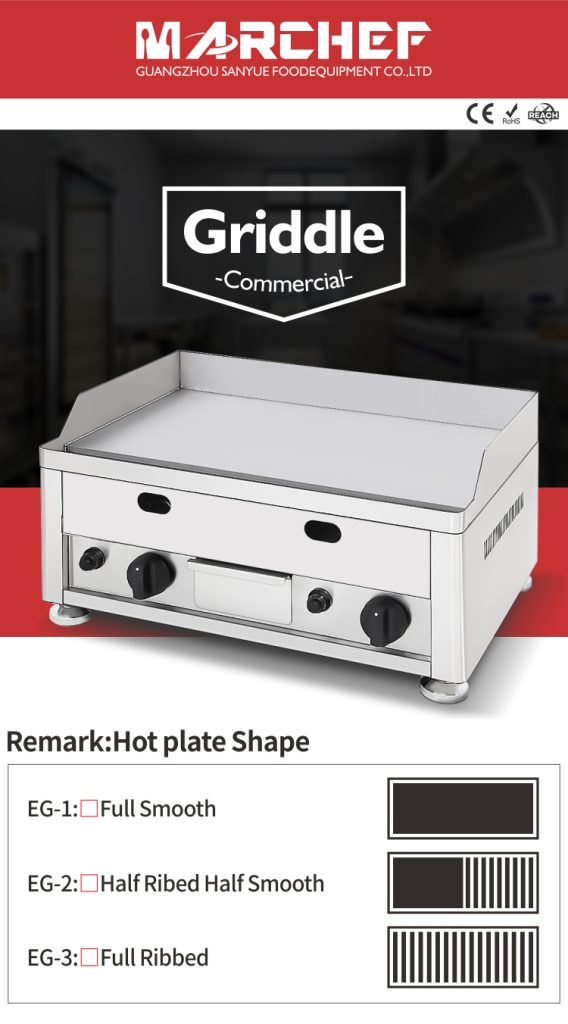 Key considerations:
Here are some key features that you should always keep in mind before purchasing a gas griddle for your kitchen:
Size:
Gas griddles come in a variety of sizes; always check gas griddle size according to the space available in your kitchen. Small gas griddles are about 15 -19 inches long and 9 to 10 inches wide. If you want a gas griddle for your home kitchen, this one is perfect for you. It can be fit anywhere and does not require a lot of counter space. But if you don't have a space problem and want a griddle for your restaurant kitchen, you should get a large griddle of a size ranging from 24, 27, 40, or even 70 inches.
There are different types of surface area used in gas griddles which include smooth chrome plate, half smooth half grill, ribbed gas griddle, half ribbed half smooth, you should buy a gas griddle by considering the food you want to cook if you want to cook grill sandwich and flat roti you should buy half ribbed half smooth gas griddles.
To prevent smoke, you should check for the coated material of your gas griddle; it should be non-stick as nonstick griddles are easy to clean and do not produce smoke. Chrome top griddles are easy to clean and it is easy to cook delicate food items like an egg.
As different food requires different temperatures to be cooked well; always opts gas griddle with adjustable thermostats.
Always check the thickness of the plate; it also depends on the food items you want to prepare; delicate food items can be cooked on thin plates but if you wish to cook frozen food or meat steaks, you should have a gas griddle with the thick plate.
Now let's move on to the dealers.
Responsibilities of gas griddle dealer:
Industrial gas griddle dealers are responsible for ensuring that the cooking equipment they are supplying is safe and reliable. A good dealer is the one who advises you on how to choose the right product for your needs, just like now MARCHEF, being the best dealer, is guiding you about gas griddle grill. A dealer should help you in selecting the best model by listing all features and other details about the model. They also provide maintenance services.
Marchef gas griddle series:
Marchef has a variety of gas griddles of every size, and surface. We have 25+ gas griddles that are best for cooking food. The surface area we use in our gas griddle includes smooth, smooth chrome, ribbed, chrome, half chromo half smooth, half ribbed half chrome, etc. The size of our gas griddle ranges from 36 cm to 100cm. You can check all of our products on our website.
Here are our five most popular selling gas griddles:
All of our products are made up of high-quality material and always give high performance, but here are the most popular gas griddles:
Let's learn about them one by one.
· 16mm Full Smooth Gas Griddle:
Our 16mm gas griddle is designed especially for your kitchen countertop, for your convenience, and to add versatility to your menu. And yes, who doesn't like hot and crispy food? The plate thickness is16mm, which is so perfect that you can cook delicate and frozen food items easily. Now if we talk about griddle size, its size is 896*398*16mm, which is almost 35 inches. The plate surface is fully flat, which is non-smoky and also increases versatility and diversifies your menu. It has a power of 8.1kw and uses LPG gas to function.
16mm Full Ribbed Gas Griddle:
It is ideal for cooking grill sandwiches, and burgers as well as hash brownies and French toast. A full ribbed surface allows the fat contained in the food to drain away. It requires a gas pressure of 2800 pa and has a power of 2.7*3 KW. The plate surface is ribbed and the size of the plate is 37 inches. The thickness of the plate is 16mm. The full ribbed surface gas griddle is a good option for those who like fine lines on their food to have an aesthetic look.
· 10mm chrome plate gas griddle:
Chrome plate gas griddle prevents food from sticking. It is environment friendly as it emits less heat as compared to others and saves 20% energy. This is the best option for those who want to serve delicate food items like eggs, fish, etc. They are easy to clean. They are more appealing to most of our customers. Its plate thinks at 10mm, which is equal to 1cm; and the plate pattern is chrome. It also uses LPG gas and requires 2800pa gas pressure to work efficiently.
12mm full smooth gas griddle:
Its plate thickness is 12mm and the size of the plate is 30 inches. A smooth surface heats the food evenly and perfectly; therefore it is fantastic for your kitchen.
10mm half smooth gas griddle:
It is another masterpiece we have. It has a combination of ribbed and smooth surface, ideal for those who want to cook delicate and frozen items all at once. So you can cook a steak and fry an egg at the same time. It uses LPG Gas and its plate thickness is 10mm. The gas pressure it needs is 2800pa.
FEATURES OF MARCHEF GAS GRIDDLES:
The following are the features that are common in our gas griddles:
We use stainless steel in the manufacturing of griddles to ensure that our product lasts longer and prevents oil splashing.
Flame-out protection is used to cut the gas supply off under flame-out.
It has a removable grease tray.
It has an adequate ventilation chimney.
We have four kinds of heating plates.
In last, Marchef is the dealer you're looking for to buy gas griddles that are durable, reliable, and convenient, also if you want to customize your griddle, contact MARCHEF.
Please feel free to contact our friendly reception staff for any product equipment questions!